Chess Pieces
TAX FREE SHOPPING!
On orders under $800
Chess Pieces
The Regency Chess Company has brought together the finest collection of chess pieces from producers all over the world. Our specialism has been in luxury wooden Staunton chessmen made from exotic hardwoods. We have been building this collection since 2008 when we embarked on a mission to find the world's best chessmen. We visited a few different locations around the globe and met with some of the worlds most established producers of chessmen. We were very fortunate to meet with the producer who had been working exclusively with House of Staunton in the USA for twelve years. They had broken their exclusivity agreement so were now able to take on new clients. Because they had been working so closely with a retailer who had obsessed over quality, they had reached a standard of production that was far superior to their competitors. This resulted in us being able to add some of the finest Staunton chessmen in the world to our collection. We are delighted to say that the relationship with the suppliers continues today and they are still supplying us some excellent products.
Chess Pieces for sale
Today our range of chessmen covers various styles and materials including wood, stone, metal and marble. Many of the designs are exclusive to us and we also carry top brands including Italfama, Berkeley Chess and Manopolous. All of the sets are stocked in our warehouse and are despatched immediately after you place your order. The sets range in price from just over a hundred dollars and into four figure sums for our beautiful luxury wooden chess pieces.
Staunton Chess pieces
Without any doubt the Staunton pattern chessmen are the most popular, recognised and copied chess pieces in the world. Since the mid 1800s they have become the world's standard set for tournaments, competitions, clubs and even collecting! It is the design that our minds immediately picture when we think of a chess set. The Staunton chessmen have been used in hundreds of movies, stock photographs, ad campaigns and in numerous logo and corporate design for businesses. There is little wonder that the vast majority of chess sets sold in the world today are Staunton. There is of course no actual company called Staunton who make these chess pieces. The name comes not from the company who originally made them, but from the famous chess player who endorsed them and promoted them. The original pieces were designed, made and sold by Jacques of London who astonishingly still exist today. Of course, there is no longer any copyright on the design and thousands of versions have been made by other companies. The original company no longer exists in London and today is only a brand and retailer who has all of their products manufactured in Asia. The Regency Chess Company has become one of the world's most prolific retailer of Staunton chess pieces and boasts one of the best selections.
Wooden Chess Pieces
The Staunton chessmen were originally made from wood, specifically ebony and boxwood and today the vast majority of them sill is. Ebony has become very rare and expensive so it's not unusual to see various different hard woods being used to make them. Our range of wooden chess pieces is extensive and includes real Ebony, Boxwood, Rosewood, Sheesham and others. There has also been a trend for more environmentally friendly, sustainable woods such as Anjan, Acacia and others. It is fairly easy to predict that the day will soon come when a set of real ebony chessmen is no longer available on the open market. Because of this many people see these rare woods as a fine investment and are keen to acquire them while they still can.
Marble Chess pieces
We sell a range of marble and alabaster chess pieces from suppliers in Italy. Brand like Scali and Italfama have become synonymous with quality and style. As is so often the case, everything made in Italy is fantastic! Marble as a material isn't as versatile or easy to work with as wood, so you don't typically get as much detail and finesse as you do with wooden pieces, but the marble effect is a beautiful thing and makes for excellent chessmen
Themed chess pieces
Our range of themed chess pieces is extensive. We sell a massive range of pieces from Italian and English suppliers including Italfama and Berkeley chess. The range of these chess sets spans many themes, from cats and dogs to the second world war. Most of the sets are cast from stone resin in some cases painted by hand. It's worth remembering that while the themed sets are brilliant gifts and somewhat of a novelty, they are not ideal for serious chess players playing serious competitive chess.
Stone chess pieces
We have an extensive range of stone chess pieces that are cast from stone resin. This process involves crushing stone to a fine powder and mixing it with a resin, once cured it gives the impression of real stone while providing the versatility for being moulded. Our Isle of Lewis chess pieces are some of the best stone resin chessmen we sell. They are precise replicas of the original relics that were discovered in the 1800s.
Metal Chess pieces
Our range of metal chessmen is imported from Italy. In fact, the finest of all the chess producers, Italfama. They are based in Florence and have a fantastic range of both cast and lathed (turned) metal chess pieces. They make numerous styles and versions including some great Staunton designs. They represent extremely high quality, durability and style and obviously have an amazing weight to them.
Save 25% today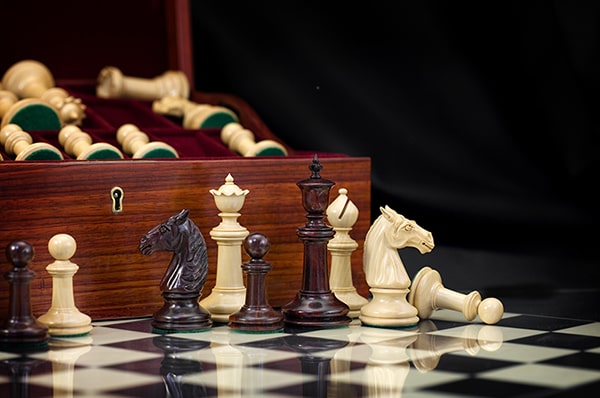 Save 25% on your first order by using code:
Continue Shopping