Chess Boards
TAX FREE SHOPPING!
On orders under $800
Consisting of 64 squares, the chess board is an iconic platform for the game of chess. The chess board is the essential partner for the chessmen to be able to play the game of chess; one without the other, while beautiful, lacks any purpose. Without exception, chess boards are eight squares wide and high. Technically speaking, the rows are known as ranks, and the columns as files. While a chess board can be perfectly functional without any notation (letters and numbers used to plot the positions of squares), competitive chess and tournaments will insist on notated boards. FIDE, the World Chess Federation, has a set standard for tournament chess boards that include notation. The precursor to the chess board was the Ashtapada board, which featured sixty-four squares divided by lines, but there was no chequerboard pattern. Every square was the same color. The dark and light check pattern came about around the tenth century and was copied from a smaller draughts board.
Wooden Chess Board
Wood is the most common material used in the production of chess boards. It lends itself perfectly for a host of reasons, one being that wood comes in a wide variety of dark and light shades, making it perfect for the checkerboard pattern production. Generally speaking, chess boards are made from veneers of wood rather than solid blocks. This is because the production is so much easier and can be controlled. Solid wooden chess boards are available, and we do stock a very limited range of them, but due to the complex and time-consuming nature of their production, they are made in small quantities and quite expensive.
Wood has excellent longevity and will age very nicely; it's robust, not too heavy, and has become the settled favorite when it comes to chessboard production.
Woods used in chess board production include (by most popular)
Wood for dark squares and borders
Mahogany
Walnut
Wenge
Rosewood
Ebony
Wood used for the light squares
The Regency Chess Company Chess Board Range
Since 2008, the Regency Chess Company has been sourcing chess boards from the world's most prolific and competent producers. The brands we sell include:
Rechapados Ferrer (Spain)
Italfama (Italy)
Manopoulos (Greece)
Sunrise Chess (Poland)
We carry a variety of chess boards crafted using a range of fine woods. We stock boards in a selection of sizes to be able to accommodate our extensive range of chess pieces. Our offerings include basic but very high-quality wooden boards and a selection of high-end luxury chess boards that are finished in high gloss and feature rare and exotic woods. All of our chess boards go through rigorous quality control and are packaged expertly to ensure safe arrival.
Cool Chess Boards
Since The Queen's Gambit hit the screens on Netflix, chess has become cool again, not that it ever wasn't, of course. Hidden in our extensive range of chess boards are some highly cool offerings. The range of chess boards we import from Italy are incredibly high quality and take the aesthetics of the chess set to a new level. They come from the established luxury chess board maker Italfama, based in Florence. They made what we believe are the most remarkable chess boards in the world. With a range of woods, colors, and finishes, their selection is unrivaled, and we're delighted to be one of their stockists.
Chess Board Walnut
Since we've been in the business of retailing chess boards, we've sold thousands of walnut versions. There are a handful of reasons why walnut is the ideal wood for a chessboard, and we'll go into those now. Walnut is a rich and dense hardwood with an attractive mid-brown color to it. It remains abundant in many parts of the world, including Europe, and isn't classed as an endangered wood. When made into chess boards, it creates a lovely contrast with the light maple wood used for the light squares, and the best thing is how the color of walnut contrasts with black ebony or ebonized chessmen. In fact, in our view, there is no better match than a set of ebony Staunton Chessmen on a walnut chessboard. The contrast is perfect. We stock a good selection of walnut boards, including dark walnut burl finishes that, when glossed with fine lacquer, look incredible.
Custom Chess Boards
The Regency Chess Company has been working for many years with some of the world's most famous chess board brands. Most of the brands we sell are imported from Europe, which ensures we can maintain excellent quality standards. Italy, for example, has a deep tradition in wood marquetry and craftwork and, as such, produces some of the finest boards on the market. If you are on the lookout for a custom chess board or require something out of the ordinary, please get in touch, and we'll see if we can source it for you.
Best Chess Boards
The very best chess boards are sourced from a small handful of unique suppliers in Europe. Companies like Rechapados Ferrer and Italfama have been crafting chess boards for decades, and both have extensive product ranges. There is little doubt that the best chess boards are wooden, using fine and top-grade woodcuts, and expertly crafted using exact production methods. While it could be argued that what constitutes the best is subjective, we feel that a chessboard must be judged on the following criteria:
Material Quality
Construction method
Finish
Accuracy of the square pattern
Longevity (not subject to warping or cracking)
Compliments the chessmen
Weight (heavier is usually better)
The design doesn't cause distraction when playing chess
Unique Chess Boards
Many of the chess boards we stock are unique in two ways. Firstly, we have a handful of exclusive designs that are made for us by our trusted suppliers. Due to years of cooperation between us and the world's finest chessboard makers, we are able to offer exclusive deals on chess boards you can't source elsewhere.
Secondly, our top-of-the-range chess boards feature some extremely decorative and beautiful wood grain. Using fine walnut burls and curly or bird-eye maple, our producers have created some fine examples of unique chess boards. No two are the same in terms of grain, shade, and color, and we've seen some incredible examples of gorgeous wood patterns. The decorative woods are carefully selected and book-matched to ensure a perfectly unique chess board.
Luxury Chess Board
If you're looking for a reassuringly expensive chessboard, then we have some unique designs that have been hand-picked from the world's finest producers. Hand-crafted in Italy from the finest woods and crafted by seasoned experts. When looking for a luxury chess board, you can expect it to be thicker than standard boards, heavier, made from finer woods, and the inlays set to perfection. Typically, the look is finished off with a deep polished gloss lacquer that further brings out the depth and detail in the finish.
Save 25% today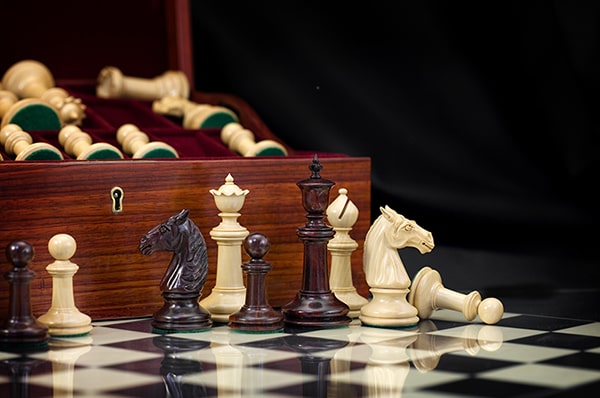 Save 25% on your first order by using code:
Continue Shopping