Berkeley Chess Sets
Berkeley Chess Sets
Berkeley Chess claims to be the 'Grandmasters of Decorative Chess' - and when you browse their wonderful collection of hand-crafted themed chess sets, it's hard not to believe them.
Based in the heart of rural Somerset in the South West of England, Berkeley Chess has revived the prestige and magic of traditional British craftsmanship. The firm utilizes centuries-old production techniques to create some of the most innovative and exquisitely-detailed chess sets on the market today.
Gifted artists create the original chess piece sculpture with painstaking precision which is carefully recreated in a silicon mould. The intricate detail in each piece is brought to life by Berkeley's unique staining and polishing technique before being adorned with a protective felt base.
Berkeley Chess has earned its stellar reputation as one of the world's finest producers of hand-made, themed chess sets and we're honored to finally be able to make them available to our customers in the USA.
Feel free to browse our selection of original and inspired Berkeley Chess sets and pieces. From historical themes, like the Ancient Egypt-inspired Black Egyptian Cardinal Chess Set, to cherished figures of literature, like the Metal and Palisander Alice in Wonderland Chess Set, we're sure to have a themed set for you.
Berkeley Chess Pieces & Sets With Boards
It's hard to resist Berkeley's exquisitely detailed chessmen and many chess lovers enjoy buying several sets of pieces or even collecting them.
That's why we've given you the option of buying the pieces without the board, saving you money and space as well as giving you the flexibility to expand your collection. Of course, we also sell complete sets that feature both the hand-crafted pieces and a carefully-selected, luxury board.
Sets of Berkeley Chess pieces start from $184 and full sets with boards from just $256.
Berkeley Isle Of Lewis Chess Sets
The Isle of Lewis chessmen predates the 'standard' Staunton design by centuries. They're named after the Scottish island on which they were found in 1831 and are believed to be from 12th century Norway. Today, the original pieces are shared between The British Museum in London and The National Museum of Scotland in Edinburgh.
With the Palisander Isle of Lewis (2nd Edition) Chess Set, the artisans at Berkeley Chess have faithfully recreated the medieval pieces in solid crushed stone resin for your playing pleasure.
Berkeley Historical Chess Sets
There's something about Ancient Rome that's so fascinating. Maybe, it's the fact that today's federal government and Senate is based on that of the Roman Republic. Or, its incredible architectural and engineering accomplishments that shape our daily lives, such as, extensive road networks, aqueducts, monuments, and public facilities. And not to mention The Romans' mammoth contribution to modern law, art, language, and religion.
Or maybe it's the stories and legends that have been passed down for centuries that pique our interest. Antony and Cleopatra, Caligula, Nero, and of course, Julius Ceasar.
Berkeley's Roman Russet and Walnut Chess Set is a fitting tribute to this defining age in history.
Crafted from crushed stone resin, every piece from the stoic armed legionnaires (pawns) to the imperious Julius Ceasar (king) features the incredible level of detail that we've come to expect from Berkeley. Other notable pieces include a standard bearer carrying the insignia of the legion (bishop), and the rook, depicted by a faithful recreation of a Roman garrison tower. The chessmen look gallant in a striking russet brown and cream finish.
We've completed the set by pairing the Berkeley pieces with a Spanish-made, deluxe walnut board.
Popular Berkeley Chess Sets
We can't talk about Berkeley chess sets without mentioning one of their best-loved examples, the Metal and Palisander Alice in Wonderland Chess Set.
Little did the lecturer Charles Lutwidge Dodgson (who'd adopt the pen name, Lewis Carroll) know that the stories he'd tell to amuse the children of The Dean of Christ Church would be forever cherished and retold by generations to come.
Carroll's literary creations from 'Alice's Adventures in Wonderland' and 'Through the Looking Glass' have been brought to life by Berkeley in this magical set. Childhood favorites like the White King (king), the Mad Hatter (bishop), Tweedle Dee and Tweedle Dum (rook), and of course your queen, Alice, have been crafted from crushed stone resin and stunningly finished in pewter and copper.
Your adventure will be played out on the only chess board that we feel is fitting - a 19.7-inch, Spanish board featuring high-gloss black anegre and maple squares and a refined palisander border.
Order Your Berkeley Chess Set With Confidence
We offer FREE and fast shipping to all states and each set sold comes with a two-year warranty. Plus, if for any reason you don't like your new set, send it back to us within 30 days and we'll give you a full refund.
Your new Berkeley chess set is waiting for you to sit down and play.
The Regency Chess Company.
Save 25% today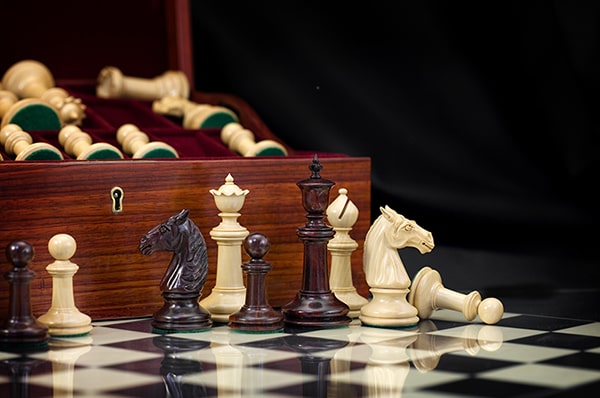 Save 25% on your first order by using code:
Continue Shopping