Beth Harmon's narcotics-fueled rise to the top of the chess world enraptured Netflix's viewers for 7 perfect episodes. But many of us want to know, is The Queen's Gambit a true story? Or is the whole thing a genius work of fiction?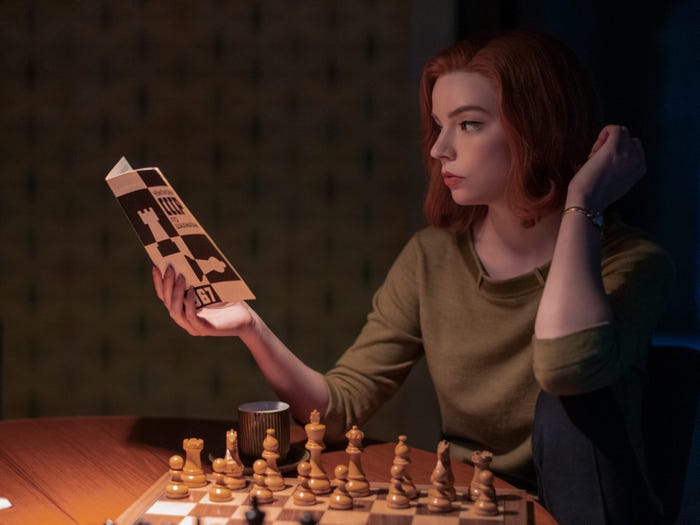 Photo courtesy of Netflix.
A surprise hit, The Queen's Gambit was one of the most popular television series of the pandemic era. When the show debuted on Netflix in the fall of 2020, it took just four weeks to become the streaming service's most-watched miniseries of all time.
The show scooped up a treasure trove of awards too, to name a few: 11 Primetime Emmys, including one for Outstanding Limited or Anthology Series – a first for a show on a streaming service; two Golden Globes, including Best Actress In a Miniseries or Television Film for the show's star Anya Taylor-Joy; a Screen Actors Guild Award for Outstanding Performance by a Female Actor in a Miniseries or Television Movie for Taylor-Joy; and even a Grammy Award for Best Score Soundtrack for Visual Media: and many more.
Not bad for a show about dusty old chess, huh?
Speaking of our favorite game, The Queen's Gambit was single-handedly responsible for the biggest surge in the chess industry in living memory. 
The show inspired viewers, young and old, to dig out their old chess sets – or buy them online, driving demand for all-things chess to a record-breaking high. The three weeks following the show's debut saw unit sales of chess sets jump 87% and chess book sales rise a whopping 603%. 
Here at Regency Chess, we did NOT see this coming. The chess industry traditionally enjoys a steady demand, but the perfect storm of The Queen's Gambit amidst worldwide lockdowns left us reeling!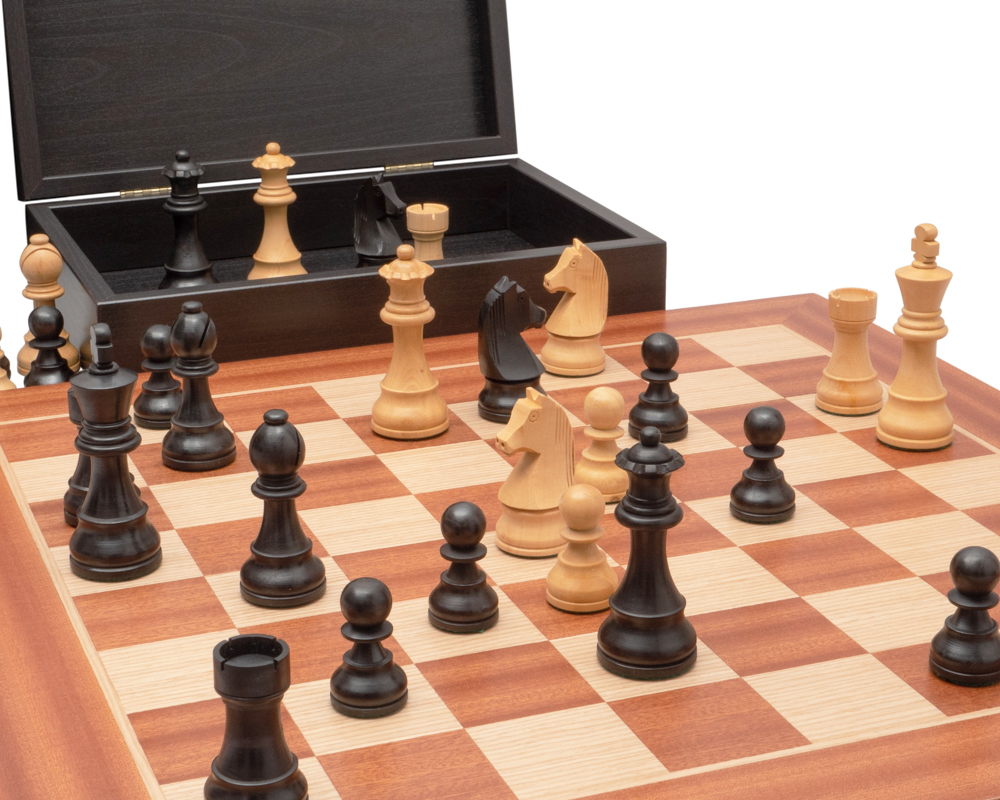 Is The Queen's Gambit a True Story?
No. Not in the sense that a girl named Beth Harmon overcomes her demons to eventually become a chess grandmaster anyway. 
The uber-successful series is based on a 1983 book by American writer Walter Tevis, who wrote three other books that would be successfully adapted to screen; The Hustler, The Color of Money and The Man Who Fell to Earth.
But, Tevis, being an ardent chess fan and keen player, couldn't help but weave real-life elements into his coming-of-age tale of a chess prodigy. 
For one, the chess played throughout the series is as real as it comes- which is to be expected when one of the show's consultants was former World Champion Garry Kasparov. 
Several of the games played in the show were recreations of high-profile contests, for example, Beth's showdown with Russian champion Vasily Borgov in the series finale was played in the 1993 Interzonal Tournament in Biel, Switzerland. 
Who Is the 'Real' Beth Harmon?
Back when the book was first released, Tevis was quizzed about his inspiration for Beth. In an interview with New York Times, the novelist explains, "I consider 'The Queen's Gambit' a tribute to brainy women. I like Beth for her bravery and intelligence. In the past, many women have had to hide their brains, but not today."
When it comes to real-life inspirations, Tevis confesses that the chess greats of history indeed influenced the story but stresses that it remains very much a piece of fiction. 
"The superb chess of Grandmasters Robert Fischer, Boris Spassky and Anatoly Karpov has been a source of delight to players like myself for years. Since The Queen's Gambit is a work of fiction, however, it seemed prudent to omit them from the cast of characters, if only to prevent contradiction of the record."
Of the grandmasters name-checked by Tevis, the clearest parallels can be drawn between Beth and Bobby Fischer. Most notably, in the series finale. 
In Beth's final match of the series, she defeats the defending World Champion Vasily Borgov from Russia. A clear comparison can be made with the famous 1972 'Match of the Century' where Bobby Fischer overcame Russia's Boris Spassky to become the first American-born World Champion. 
Beth's fictional career shares a timeline with Bobby's real-life one too. The Queen's Gambit covers a period between 1958 and 1968 which aligns closely with Fischer's peak period, 1957 – 1972.
In the fictional world of The Queen's Gambit, an 18-year-old Beth won the U.S. Championship in 1967. The same year over in real life saw Fischer become the youngest ever U.S. Champion at just 14.
So, career checks out. What about Beth's personal life?
Like Beth, Fischer had a troubled start in life. Bobby's mother was homeless when he was born and he and his sister spent their childhood flitting between schools as their single mother struggled to put food on the table. 
Whereas Beth grew up in an orphanage after her mother commit suicide, it can be argued that both of these unconventional upbringings lead to the self-sufficiency and isolative behaviors seen in both chess prodigies. 
Fischer certainly had his personal issues (you can read about them here, we haven't got time to go into those!) but he wasn't believed to have been plagued by alcohol and drug addiction. 
For that aspect of Beth's character, Tevis looked a little closer to home.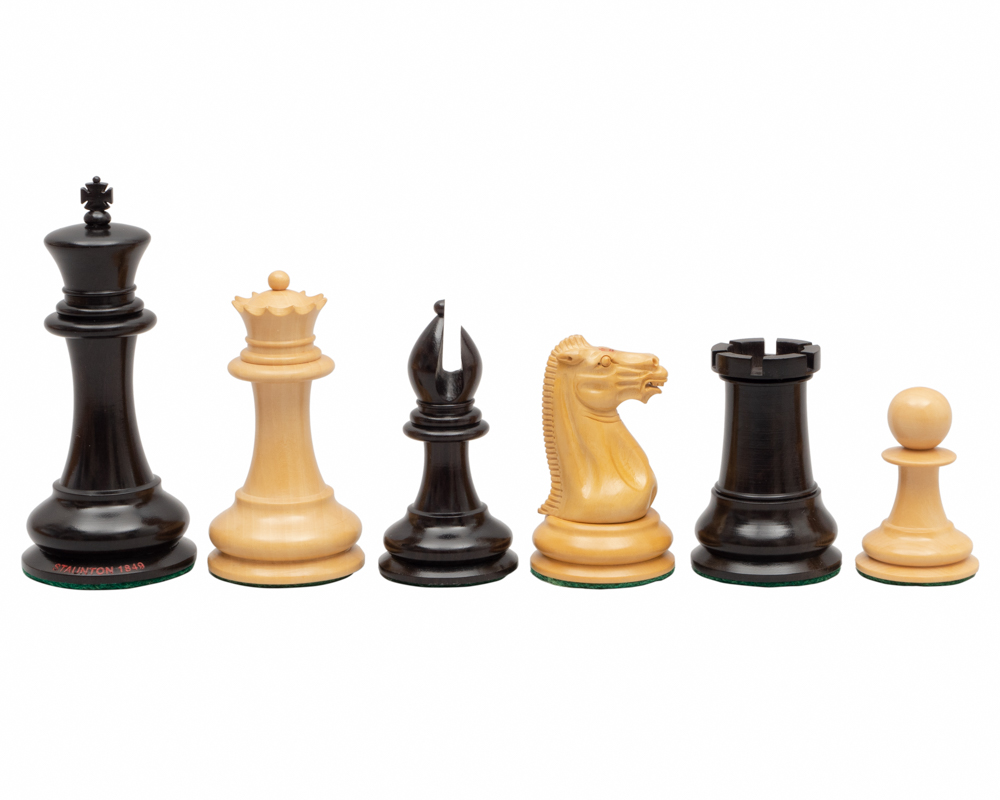 Who inspired Beth's addictive behaviors?
A key component of Beth's character, and her early success in chess, was her addiction to xanzolam – the white and green 'vitamins' provided to children in the orphanage where she grew up.
In the same New York Times interview, Tevis admitted that this aspect of Beth's character was inspired by his own childhood experiences.
"When I was young, I was diagnosed as having a rheumatic heart and given heavy drug doses in a hospital. That's where Beth's drug dependency comes from in the novel." 
As well as creating an intriguing dimension to Beth's character, exploring these themes had an unexpected effect on Tevis.
"Writing about her was purgative. There was some pain – I did a lot of dreaming while writing that part of the story. But artistically, I didn't allow myself to be self-indulgent."
Checkmate
The best stories are those that have a little bit of truth. 
Although The Queen's Gambit is, strictly speaking, a work of fiction, its writer has been honest about the real-life influences that have shaped Beth Harmon's character, from chess greats like Bobby Fischer to his own childhood traumas. 
Nearly forty years later, the super-successful Netflix series infused realism into its match scenes by consulting with a former World Champion and replicating iconic games from the past.
Now that's been cleared up, is it time for a re-watch?