Every month, the FIDE (the International Chess Federation) updates their list of the 'Top 100 Players' – the definitive ranking of the best chess players on the planet.
Read on to find out why people are calling today's number one the greatest of all time…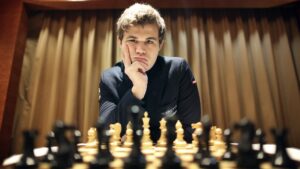 The Norwegian Magnus Carlsen is the current world's number one chess player. The reigning five-time World Chess Champion has held the No. 1 position in the FIDE world chess rankings since July 1, 2011, and his peak rating of 2882 is the highest in history.
And he's still in his early thirties!
Who is Magnus Carlsen?
Magnus was born Sven Magnus Øen Carlsen in Tønsberg, Norway, on 30 November 1990 but moved a lot in his early years. He lived with his parents and three sisters in Espoo, Finland, and Brussels, Belgium, before going back to Norway in the late nineties.
The prodigy was already showing his intellect at two years old when he could solve 50-piece jigsaw puzzles, and at four, he moved on to Lego sets intended for children aged 10-14.
His father (whom Magnus calls a fine chess player himself) was responsible for introducing the 5-year-old to chess – but it wasn't love at first sight. Magnus only started showing serious interest when the idea of beating his elder sister entered his head.
Nothing like a bit of sibling rivalry to stoke the fire!
He played his first tournament (the youngest division of the 1999 Norwegian Chess Championship) a few years later at age 8 and scored a respectable 6/11. He went on to finish second in the boys' under-12 division at the 2002 FIDE World Youth Chess Championship, which took place in Greece.
Carlsen became the youngest player ever to surpass a FIDE rating of 2800 at 18, and in 2010, at 19, he reached No. 1 in the FIDE world rankings – the youngest person ever to achieve it.
In 2013, he became World Chess Champion by defeating five-time champion Viswanathan Anand in India. As well as being the reigning World Champion, he's also a three-time World Rapid Chess Champion and five-time World Blitz Chess Champion.
Why it's fair to call Carlsen the greatest chess player of all time
Carlsen's peak FIDE rating, 2882, is the highest in history and he currently holds the record for the longest unbeaten streak at the elite level in classical chess.
Science also backs Carlsen's case for the greatest chess player of all time.
Carlsen has played with an all-time high Computer Aggregated Precision Score (CAPS) of 98.4 – CAPS is a tool that analyzes moves with computers to evaluate overall strength of play. To put that into perspective, the chess greats Garry Kasparov and Bobby Fischer score 97.51 and 97.59, respectively.
What else do we know about the G.O.A.T of chess?
When Carlsen is not destroying his opponents on the chess board, he could be dominating his fantasy football league – the chess master is a massive football fan with a vast knowledge of the game. He supports Real Madrid.
Being easy on the eyes isn't much of an advantage in chess, but it's opened the doors to modelling and ambassador opportunities with international brands. In 2010, Carlsen appeared in G-Star Raw's advertising campaign along with American actress Liv Tyler, and in 2020, he became a global ambassador for gambling company Unibet.
Oh, and Cosmopolitan magazine named him one of the "Sexiest Men of 2013"!
Carlsen follows a 'mostly vegetarian' diet that he says was inspired by his sisters.
In conclusion
Although it could be debated, Magnus Carlsen has a strong case for the greatest chess player of all time. His accolades, ranking, and CAPS score are unrivalled, and being still in his early thirties, he's got plenty of time to add more championships to his collection.
Thankfully, you don't have to have a World No.1 Ranking to enjoy chess. Feel free to explore our collection of European-made chess sets today.
The Regency Chess Company.